New Yamaha NEOS electric scooter WHITE
Description
Yamaha Neos fully electric scooter Includes optional second battery Equivalent to a petrol engine 50cc so learner legal for sixteen year old and upwards
Yamaha has been developing and producing electric vehicles for three decades – in addition to being recognised as one of the world's most respected high-quality scooter manufacturers – so you can be sure that the stylish new NEO's comes with an attractive design, the latest technology and first-class reliability.
Comfortable, agile and easy to ride, this new generation Yamaha scooter is powered by a lithium-ion battery and driven by a hub-mounted electric motor that gives you strong and controllable acceleration – but with zero emissions and a super quiet ride! New NEO's: Move Smart.
Smooth, quiet and efficient electric power Direct drive hub-mounted electric motor Quick and controllable acceleration Universal riding position for any size and experience Removable Yamaha lithium-ion battery Selectable ride modes Ultra-quiet running Simple, compact and universal styling Connectivity via Yamaha MyRide app Jet helmet underseat storage Stylish and easy-to-read LCD instruments Smart Key keyless system Full LED lighting
Nominal power2.3kW/424r/minMaximum power2.5 kW (3.4PS)/400r/minMaximum Torque136.0N·m(13.9kgf· m)/50r/minBattery typeLithium ionBattery voltage, capacity50.4V, 19.2Ah (5HR)Total number of battery packs installed1Maximum number of battery packs2Battery fixationRemovableRange (WMTC Class 1)37 kmRange, Eco mode38.5km: This range changes by place, riding style and battery degradation.Battery weight8.0 kgBattery dimension360 mm (L) x 215 mm (D) x 105 mm (H)Energy Consumption(WMTC Class1)31Wh/kmCharger typeWall charger 220VAC; Output 58.8V, 3ACharging time (0-100%)Eight hours: Charging time may vary depending on the charging environmentCharging time (20- 80%)Four hours: Depending on use conditions and battery degradation, charging time may change.
Model Description
Full Specification
Make:

Yamaha

Model:

NEOS electric scooter

Colour:

WHITE

Price:

3350.00

Year:

2022

Registration:

003343

MakeModel:

Yamaha NEOS electric scooter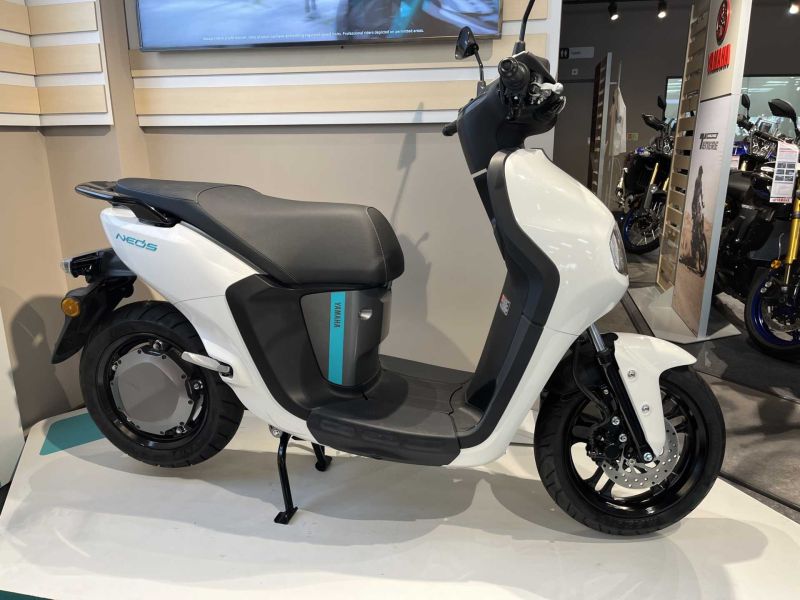 Brand Name
Product Name
Price
Product Availability