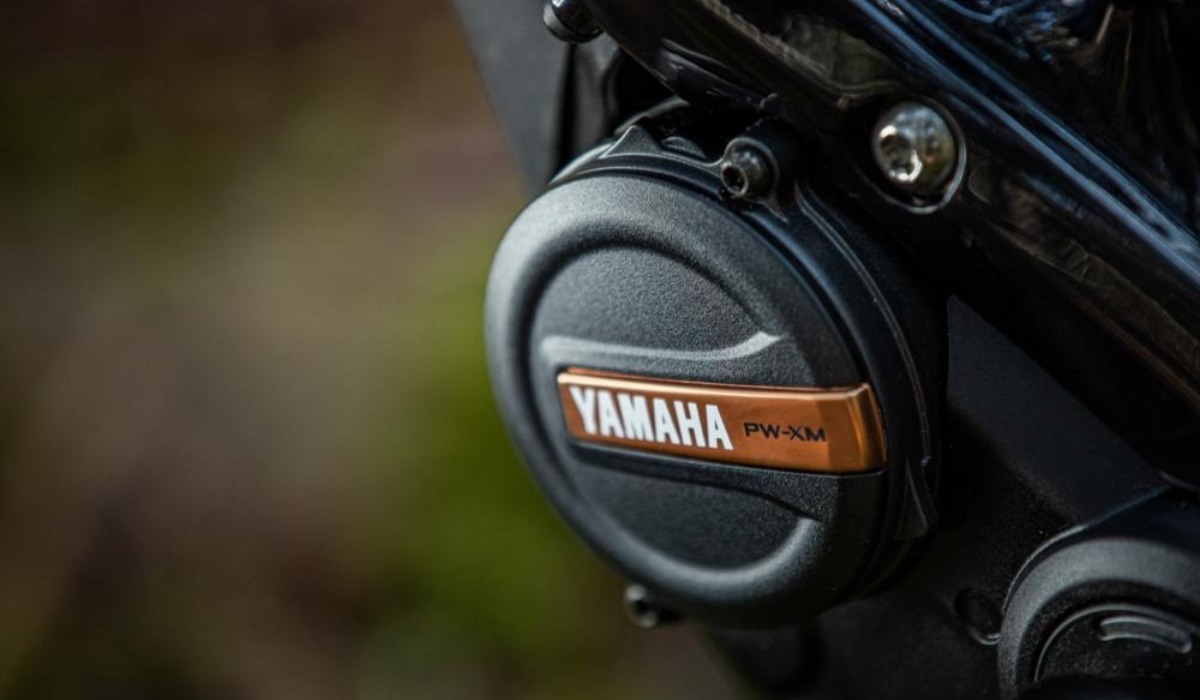 Yamaha's new PW-XM flagship eMTB drive unit: Marking thirty years as the pioneer of the eBike system.
In recent years the global demand for eBikes has expanded dramatically as bike manufacturers have fully embraced the latest drive unit technology and introduced stylish new models offering increased range and performance. The eBike segment now accounts for a significant proportion of the total bicycle market, and this quiet and economical form of transport is the fastest-growing sector in zero emission personal mobility.
Yamaha Motor pioneered the first e-Bike back in 1993. It mounted the first iteration of the company's signature Power Assist System (PAS), in which an electric motor is used to provide an assistive force to the pedalling power of the rider in a manner that feels natural and in tune with human perceptions. Simply named the "PAS" after its headline feature, the bicycle was hailed as the first of its kind in the world and enjoyed a successful market debut.
Key factors behind the worldwide success of Yamaha's range of compact, high torque drive units include class-leading electronic control technology that provides instant power with a seamless and natural feeling – as well as high quality, outstanding reliability, and a first-class global backup.
New PW-XM: Yamaha's new ultra-light flagship eMTB motor
The new PW-XM is the lightest drive unit in the range, and its launch 30 years after Yamaha invented the eBike underlines just how far this zero-emission technology has progressed.
Aimed at the high-end eMTB market, the PW-XM features a specifically-designed magnesium housing that keeps its overall weight down to just 2.6 kg. Yamaha has extensive experience in the design and manufacture of specialist magnesium components for its 1,000 cc R1M Supersport motorcycle, and this knowledge has been used in the construction of the ultra-light PW-XM.
With the reduced weight and the improved heat dissipation, this flagship motor is able to produce consistently strong torque even when under high loads for long periods.
As well as standing for 'Magnesium', the 'M' in PW-XM is also a reference to the motor's assembly place in Morimachi, Japan – a bike-centric city famous for its mountain biking and cycling tourism, making it the perfect place for the birth of this new flagship eMTB drive unit.
Highest torque-to-weight ratio
With a maximum torque figure of 85 Nm and weight of just 2.6 kg, the PW-XM has the highest torque-to-weight ratio in the Yamaha range, making it an ideal drive unit for eMTB applications. It is also fully compatible with Yamaha's existing PW-X3 and PWseries S2 drive units, enabling manufacturers to create three different eBikes using the same chassis design.
Yamaha Pure Ride: Ideal mountain biking power delivery
With its minimal external dimensions combined with Yamaha's highest torque-to-weight ratio, the PW-XM is designed specifically for the premium eMTB market. Its compact layout offers greater freedom to bike manufacturers in their next generation chassis designs – and the powerful torque ensures strong performance on Alpine tracks, steep hills or sandy trails.
Pure Ride is how Yamaha describes the unique power delivery of the new PW-XM. Using state-of-the-art sensing electronics including Automatic Assist Mode, tuning detection algorithms and Zero Cadence Technology, the PW-XM rider will experience strong, seamless and natural feeling power at all times.
Displays and batteries
The new PW-XM can be paired with any of the company's displays and batteries, best in conjunction with the minimalistic and highly technical Interface X.
PW-XM Product Highlights
All new premium eMTB drive unit, designed for extreme off-road challenges as well as sporty trail rides.

Best in class riding experience: 85 Nm and 2.6 kg – Yamaha's most powerful and lightest design, with the highest torque-to-weight ratio.

Magnesium housing, manufactured in house using Yamaha Motor's motorcycle technology, ensures highest quality look and feel.

Improved heat management.

Equipped with Yamaha's advanced sensing technologies – Zero Cadence Technology and Automatic Support Mode – for a powerful, responsive and seamless Yamaha Pure Ride experience.

Walk-assist feature.

Compatible with PW-X3 and PWseries S2 motor brackets – one frame design can accommodate three different Yamaha motors.

Compatible with all Yamaha displays and batteries.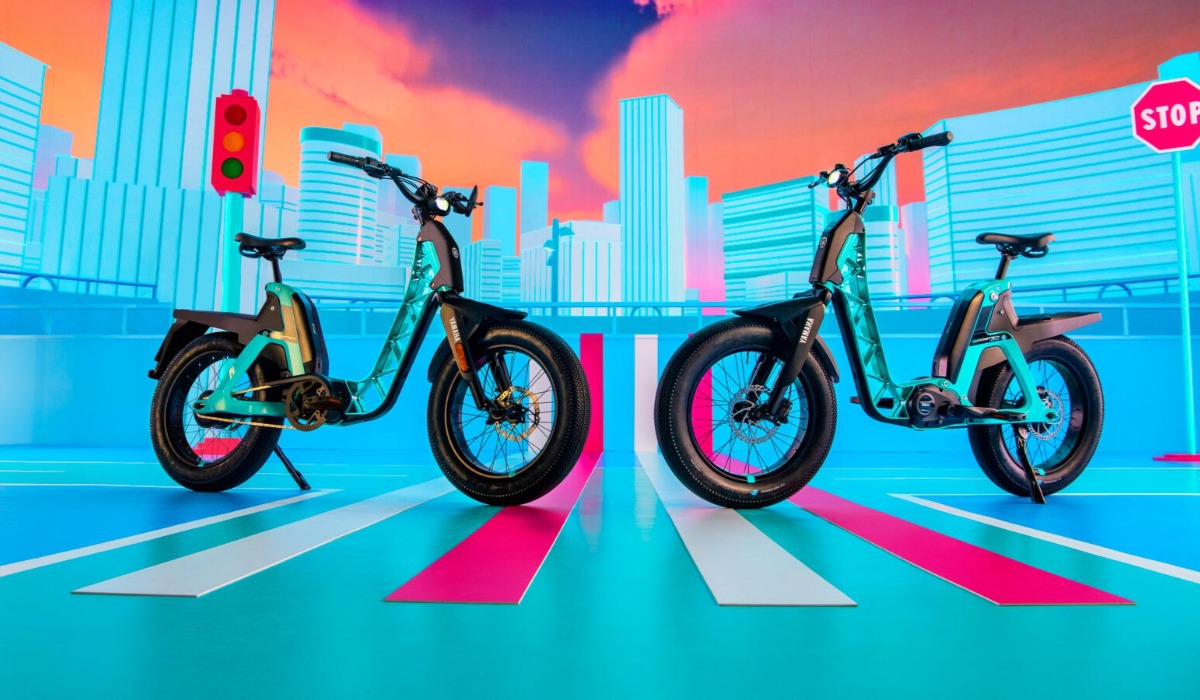 Yamaha launches two new electric Urban Mobility models
Yamaha launches two new electric Urban Mobility models
BOOSTER Easy eBike and BOOSTER S-pedelec, available in spring 2023
The Yamaha's diverse range of class-leading Urban Mobility models is further expanded with the launch of two new electric models, the BOOSTER Easy eBike and the BOOSTER S-pedelec electric.
Following the company's recent announcements regarding the new NEO's electric scooter as well as the introduction of the Moro 07, Wabash and Crosscore eBikes, the launch of these innovative and stylish new BOOSTER models underlines Yamaha's ongoing commitment towards establishing itself as one of the major brands in the European 2-wheel EV market.
Initiated at the beginning of 2022, Yamaha's Switch ON strategy represents the beginning of an exciting new era in the design and production of the next generation of electric vehicles. Many commuters are now actively seeking zero emission personal transportation, and the growing range of electric Yamaha models offers a clean, reliable and efficient solution for commuting, leisure and sporting applications.
Created with Yamaha's 30 years of EV experience
Yamaha introduced the world's first production eBike in 1993, and now, 30 years later, the premium Japanese brand is at the forefront of the development, design and manufacture of zero emission 2-wheel electric scooters, eBikes and pedelecs. Yamaha is also a key manufacturer of drive units that power many brands of eBikes produced by other manufacturers. At the same time as being a major producer of zero emission vehicles that help to contribute towards a cleaner environment, Yamaha has also accelerated its programme to become a carbon neutral manufacturer by 2035.
New BOOSTER Easy and BOOSTER
Yamaha's new BOOSTER Easy eBike and BOOSTER S-pedelec electric have been developed in Europe to meet the rapidly increasing demand for clean, quiet and accessible urban transport. A few decades ago, Yamaha's legendary BW's scooter – along with the best-selling MBK Booster – captured the imagination of a generation of younger riders who were looking for fun and freedom on two wheels. Powered by a class-leading Yamaha drive unit and featuring a rugged and timeless chassis design, the new electric BOOSTER models are designed to offer the today's urban dwellers an easy, enjoyable and affordable way to move around their towns and cities with zero emissions.
BOOSTER Easy and BOOSTER: What's the difference?
Yamaha's new BOOSTER Easy and BOOSTER look virtually identical and are technically very similar, sharing the same lightweight chassis design. The difference is in their performance: BOOSTER Easy is an eBike with a maximum pedal assisted speed of 25km/h, while the BOOSTER is an AM licence S-pedelec or electric moped that can power to a maximum pedal assisted speed of 45km/h.
Contemporary and minimalistic design
Fun to ride, simple to maintain and accessible to an extremely wide and diverse range of customers of all ages and backgrounds, the BOOSTER models are the spiritual successors to the original 'fat tyre' 50cc Yamaha and MBK scooters that played a big part in the lives of thousands of European teenagers growing up in the 1980s and 90s.
The contemporary and minimalist design features an exposed diecast aluminium front frame as well as spoked wheels with fat 20" x 4" tyres, and a classic U-frame configuration that makes getting on and off so easy. Driven by an ultra-compact and lightweight Yamaha PW-S2 drive unit that delivers seamless power, the new BOOSTER models are ready to make every part of the metropolis easily accessible to the new generation of riders who live, work and play in the city.
Exclusive Yamaha body components
The BOOSTER models benefit from a range of exclusive chassis components that add extra fun and functionality to the look and feel of these new zero emission vehicles. The front end of the bike features Yamaha-exclusive fork covers, a front plate cover and front mudguard as well as a Supernova headlight to give a sleek and coordinated look.
Cables are hidden away behind ducts for cleaner lines, and a chain cover and engine covers underline the BOOSTERS' high quality of finish. The rear carrier provides plenty of carrying space, and both models feature an adjustable Royal Orbis seat and Integrated Koso LED taillight.
Comfortable and agile, perfect for urban mobility
The BOOSTER models represent the next generation in urban mobility and are amongst the most accessible powered two wheel models available today. Riding comfort is assured on uneven road surfaces thanks to the fat 20" x 4" tyres that offer excellent grip on different road surfaces. The adjustable seat height enables riders of varying sizes to find their ideal riding position – and, together with the shock absorbing high-profile tyres, the smooth front suspension soaks up the bumps. As well as offering easy ingress, the strong and simple U-frame design with its unique diecast aluminium front section ensures a low centre of gravity for Easy agility, making this zero emission 2-wheeler the smarter way to move.
Smooth and reliable Yamaha power
Yamaha has 30 years worth of experience in the design and manufacture of high-tech eBike drive units, and the BOOSTER models are equipped with the very latest PWseries S2 motor that is one of the most sophisticated designs in the class. Developed with the philosophy that 'less is more' the quiet-running PWseries S2 drive unit is extremely light and compact, weighing just 2.85 kg.
Producing 75Nm, the PWseries S2 has one of the highest torque-to-weight ratios in its class, giving the BOOSTER smooth and natural acceleration. In addition to its seamless power delivery, this reliable high-tech design also benefits from a number of class leading electronic control technologies that deliver an enjoyable and refined riding experience. Yamaha's Zero Cadence technology provides instant assistance as soon as pedalling input is sensed, and the Automatic Support Mode provides additional power assistance when necessary – such as on hills or into headwinds – to ensure an easier and enjoyable riding experience.
Riders can also select the Zero Mode that completely disengages the drive unit and solely uses pedal power – and the Walk Assist Mode makes pushing the vehicle easy in situations such as pedestrian only zones where riding is not permitted.
630 Wh 36V Yamaha battery
Both the BOOSTER Easy and BOOSTER are equipped with a 630Wh 36V battery that provides the PWseries S2 drive unit with an instant and reliable supply of power. The quickly detachable unit is located centrally for easy access as well as centralising mass for agile and responsive handling – and battery charging can be carried out both in-situ and remotely if the unit is removed.
Performance and range
BOOSTER Easy has a top assisted speed of 25km/h to comply with European eBike legislation – and riders can select the Zero mode for faster pedal-only riding on downhills. Five modes are available – +ECO, ECO, STD, HIGH and AUTO, enabling the rider to choose the appropriate setting to suit the local terrain and their individual range requirements.
The torque ratio supplied by the Yamaha drive unit is set at 50% for +ECO mode and goes up to 280% in HIGH mode, and the typical range with a 75 kg rider is up to 120 km in +ECO mode through to 60 km in HIGH mode.
BOOSTER is being classed as an electric moped (L1e) riders requires an AM licence and the appropriate insurance. The +ECO, ECO, STD, HIGH and AUTO modes can be selected by the rider to match the conditions, and a range of 110 km(+ECO mode) up to 50km (HIGH mode) can be achieved with a 75kg rider.
The torque ratio supplied by the Yamaha drive unit starts at 60% in +ECO mode and increases to 400% in HIGH mode, giving this electric moped a drive unit assistance reducing at 40km/h and stopping before 45km/h.
Intuitive user interfaces
BOOSTER is equipped with the latest centrally located Yamaha Display C user interface featuring a large 2.8″ full colour dot matrix TFT display and a separate control switch. Information displayed includes battery capacity, riding speed, assist mode, range, clock, trip distances, cadence, calorie consumption and time. A range of fitness and navigation apps can be accessed by connecting a Smartphone via Bluetooth® to enhance the overall riding experience.
BOOSTER Easy features Yamaha's simple to read Display A interface that's equipped with a 1.7″ LCD screen. Its basic design features integral buttons, and 'always on' information includes speedometer, battery capacity indicator and assist mode, as well as selectable trip meter, odometer and range.
Model overview
BOOSTER Easy
eBike category, limited speed 25km/h
Range 60km-120km depending on running mode, with fully charged battery
Comfortable, agile and lightweight urban transport
Contemporary and minimalist design
Aluminium diecast front frame
Adjustable seat height
Fat 20 inch x 4 inch high profile tyres for excellent traction and shock absorption
Low centre of gravity for easy agility and confident stability
Designed to handle uneven road surfaces
Promax 180mm diameter front and rear disc brakes
Premium Yamaha PW-S2 drive unit
Yamaha 630 Wh 36 volt battery
Display A multi-function LCD interface
Yamaha charger
Rear carrier
Yamaha exclusive bodywork
Royal Orbis seat
Supernova M99 Mini Pure headlight/Koso LED taillight
Genuine Accessory baskets, side bags, inner bags, frame side covers, premium pedals, bar mount.
Exclusive BOOSTER S-pedelec features
BOOSTER S-pedelec electric moped, AM licence category, limited speed 45 km/h
Range 50 km-110km depending on running mode, with fully charged battery
Premium Yamaha PW-S2 45 drive unit
Yamaha WVTA (L1e-B) 630Wh 36V battery
Display C multi-function full colour TFT interface
Licence plate holder
Left hand mirror
Left handlebar horn and meter controls
Colours
BOOSTER Easy
BOOSTER
Genuine Yamaha Accessories
BOOSTER riders can personalise their eBike with a selection of Genuine Yamaha Accessories, including a full and wide range of new dedicated products: front and rear baskets fully modulable and easy to mount, new inner bags usable for your daily routine and side bags to extend your carrying capacity, premium pedals and a smartphone bar mount system. And to make their own BOOSTER stand out, riders can fit a choice of different coloured side covers to the diecast front frame.
Omnichannel: a seamless buying experience for Yamaha BOOSTER customers
To ensure that every customer experiences the highest levels of satisfaction from their initial enquiry right through to the purchase and delivery of their new BOOSTER Easy and BOOSTER, Yamaha has developed an Omnichannel distribution system that delivers a seamless buying experience from start to finish.
The heart of the system is a new e-commerce platform working in partnership with the new network of eBike Experience Centres operating within Yamaha's existing European PTW network. The key advantage of the Omnichannel system is that customers can visit a Yamaha eBike Experience Centre to see and feel the eBike, take a test ride and seek advice from the fully trained dealer personnel before placing their order with confidence.
Once they have chosen their new BOOSTER the customer can go online to confirm their purchase and arrange home delivery (only for BOOSTER Easy) or pick up at the dealer. This new industry-leading system is designed to offer customers the best combination of on site and online services – and Omnichannel removes the uncertainty that is sometimes associated with a purely virtual sales experience where there is no physical element or human interaction.

Yamaha reveals eBike lineup: MORO 07, Wabash RT and CrossCore RC
Announced in early 2022, Yamaha's Switch ON strategy confirmed the company's entry into the world of electric personal mobility and outlined its ambitions to become a leading brand in the 2-wheel Electric Vehicle market. Designed to inspire a new generation of customers who are looking for zero emission personal transportation for sport, leisure and commuting, the forthcoming line up of Yamaha eBikes, scooters and pedelecs adds another dimension to personal mobility.
Yamaha launches three new 'own brand' eBikes in Mountain, Gravel and Urban segments.
One of the most exciting new chapters in Yamaha's history is about to be written with the launch of three eagerly awaited new eBikes for 2022 covering the MTB, gravel and urban sectors. The company's experience in the production of eBikes and compact drive units is second to none, and the new Yamaha line up has been holistically developed with the PW Series drive units and is imbued with the company's dynamic DNA.
Aimed at a wide variety of riders from existing Yamaha motorcycle and scooter owners who appreciate the strong brand values through to customers looking for a good price/performance ratio combined with trusted technology, the MORO 07, Wabash RT and CrossCore RC will be available exclusively through Yamaha's network of Powered Two Wheel dealers.